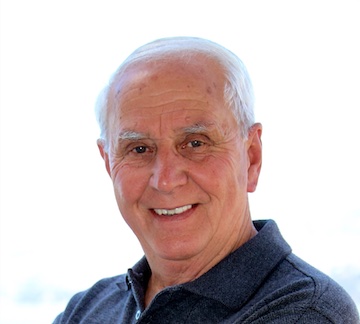 Owning real estate is an important part of life. Where you live becomes the center of your universe: your "home base" and a place where memories are made. Even an investment property can have a profound effect on your life's story—when chosen correctly, it can become long-term financial freedom and a vital part of a well-diversified portfolio.
Whether a buyer, a seller, or an investor, I think of my clients as family. Lean on me—I am here to keep the process fluid, successful, and as low-stress as possible. I will help you obtain the property you've always dreamed of by focusing our strategy on your individual style, needs, and budget.
With over 16 years as a real estate professional in San Luis Obispo, I am proud of my reputation for excellent negotiation skills, cutting-edge marketing, and local knowledge.
If you are not quite ready to buy or sell, but curious about neighborhood options, local schools, my techniques, or current real estate "buzz"? Don't be shy, feel free to reach out to me.
Think of me as your SLO County Concierge. If I don't know the answer to your question, I will find it.
OUTSTANDING! Richard did an outstanding job of handling the sale of our Cambria house. He went above the normal expectations of a realtor. Since we do not live in the area Richard went out of his way to to complete tasks big and small that we were unable to do. We are very thankful that Richard was there for use and only a phone call away when needed. He made sure that the sale of our house went smoothly from the beginning to the end. We couldn't have asked for a better person to work with then Richard Miller.
Wayne and Sandy
Richard went above and beyond to sell our property! We were very fortunate to find Richard when we started trying to sell our townhouse in San Luis Obispo. We are out-of-town owners, and Richard was very informative and supportive in getting our place sold. He found us excellent local tradespeople to perform needed repairs, and he even regularly checked on the property and helped to maintain the landscaping when we could not get to town, so that the property showed well. Richard was agreeable, responsive and simply wonderful to work with. We are very pleased with the ultimate price we got for our property, and feel very good about the entire experience.
Vince and Kerry
Very thorough and diligent! As a resident of the neighborhood in which our property was located, Richard was well versed and connected. Since we were out of the area, he inspected the property often and updated us if issues arose, as well as statuses. The escrow was lengthy due to buyers' contingencies, but Richard kept us updated throughout the process and advocated for our interests, tracking progress through the various environmental surveys and planning processes. During the offer process, Richard was very considerate of our concerns and respectful of our wishes. A very positive real estate experience!
David & Eileen
Richard consistently kept us informed throughout the process. He was great at helping us understand the balance between efforts associated with improving curb appeal with the likely effect on attractiveness to buyers and pointed out that some of the improvements we had in mind would be more trouble than they were worth. His recommended list price turned out to be only $5000 different from the actual sales price, both of which were considerably higher than we expected. Throughout the price negotiation process with the prospective buyers, he played devils advocate when needed and helped us see things through the eyes of the buyer. His assistance in this transaction was extremely cost effective in our view. Overall it was a very positive experience and we would definitely use him again for another central coast real estate transaction.
Bill & Barbara