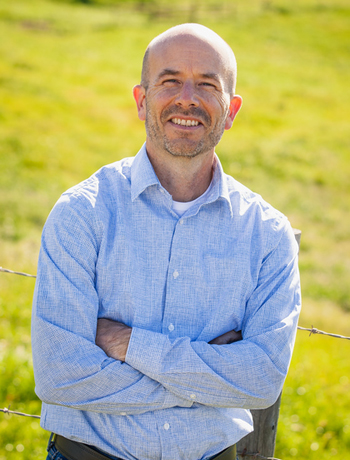 If you are searching for a Realtor® with a solid business background, look no further. Erik Slayter has the ability to help buyers and sellers feel comfortable with the business aspect of their real estate transaction as he is analytical and intuitive about the wants and needs of his clients. He earns their business by listening carefully, then acting to execute their wishes. Erik is patient and wants his clients to feel comfortable along the entire process of buying or selling their home.
In addition to working with Comet Realty, Erik is a Professor at Cal Poly in San Luis Obispo. His MBA and BS in Business Administration were both earned from Cal Poly, and he considers himself lucky to be a long term resident of San Luis Obispo County.
Erik is also co-founder and President of CCSoccer Corporation, a not-for-profit recreational, adult soccer league. He currently resides in Arroyo Grande with his wife, Camille, and their three children.
Working with Erik Slayter was a true pleasure. When I started, I had no idea what I wanted. Erik helped me figure out the pros and cons of all my options. He also answered all of my questions. Erik is very patient, low key and knowledgeable - just like a real-estate agent should be. Erik was always willing to let me know what was out there that may meet my requirements, to put in the extra effort to answer my questions and to make sure I was happy with my decision.
Marc Englert | San Luis Obispo
Hayley, I wanted to send you a quick note to let you know how great it was working with Erik Slayter. As you know, Erik was our landlord in Nipomo for 4 years. He had mentioned to me on one occasion that he was a Realtor® as well as a teacher (professor?) at Cal Poly. I took a mental note of this because I knew that my husband and I would be in the market for a home in the coming year. As a landlord, Erik was fair, honest and reliable. If he said he was going to do something, he did it and he did it promptly. These are the qualities we wanted in a Realtor® so it was an easy (and convenient) choice for us. When the time came for us to begin searching for a home, I sent Erik a text and within a couple days we were sitting down with him in our living room. Erik was eager to help but never pushy. We were looking at houses in Orcutt and Paso Robles and he never hesitated to drive us around on his days off from Cal Poly to the houses we had on our list. We found our dream home within a few weeks (faster than any of us anticipated) and he was quick to submit the offer and get the ball rolling. He even drove to my work to get the offer in because I was working. He has an easy going personality and never made us feel insecure in this entire process. When we had bumps in the road during escrow he was there to support us and answer questions without any fear of judgment on our part. In closing I'd like to add that he gave us the most AWESOME house warming gift, a 5 month supply to a beer of the month club. Icing on the cake! Would I recommend Erik to a friend? Yep, I already did.
Dana Carillo | Paso Robles