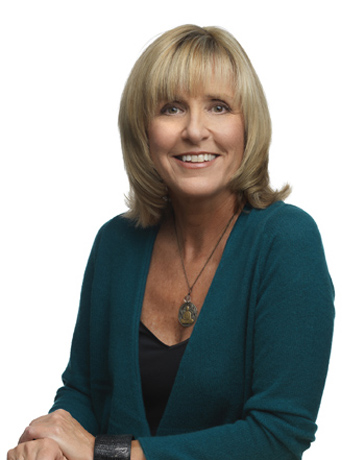 Therese Cron brings to Comet Realty a wide breadth of experience in sales, marketing, commercial real estate and property management. Through trustworthy relationships and tenacity, her clients have labeled her their Realtor® for Life.
Over the course of 13 years, Therese successfully managed multi-million dollar department stores in Los Angeles and then moved to the Central Coast to enjoy what she loves most: the sea, beautiful landscaped mountains, the wine country and to pursue a secret passion as a musician. Therese worked as the Director of Merchandising for Copeland Sports for over 15 years, driving business through store design & layout, negotiating marketing strategies with vendors, working side by side with Buyers on long term business strategies, training and developing Regional Field Managers in all aspects of merchandising and customer service.
Therese has lived on the Central Coast for 20 years, joined Comet Realty in 2012 and resides in Arroyo Grande with her daughter Mary-the love of her life. Together they enjoy local and mainstream concerts, playing guitar together, hiking and the coast up to Big Sur and spending time with friends and family.
I have been close friends with Therese for over 20 years on both a professional and personal level. I appreciate and have benefited greatly from her broad experience and insight, her tenacious loyalty and her strong sense of commitment. When she is on your team- she is ALL IN. Can't ask for more than that!
Catherine Hatfield | Ashland, OR
Therese Cron is a dynamic, passionate professional. Having known Therese in both a personal & professional capacity since 1997, she's clearly a leader in every aspect of her life combined with being a joy to work with! Her attention to detail, expertise and knowledge is broad reaching which are strong assets for the real estate business. Therese's understanding of the overall market climate offers her client's unique insight as they search for the perfect property.
Janeen Schiff | Paso Robles
Therese treated me as if I was her only client - the response and service was fabulous- in addition I made a wonderful friend. I was provided with up to date listings that met my wish list. And when "the one" was identified, Therese was quick to make contact with the listing agent to secure the deal. She was also proactive in providing the due diligence information and quick to arrange inspections, cleaning and work orders. This helped to make closing go smoothly and quickly. Therese has become a special friend and someone who's opinion in the real estate world I respect.
Kathy Collins | San Luis Obispo
Having a home that in many ways brought my family back together and provides a level of stability to my youngest daughter is priceless. Thanks to the team at Comet Realty, I was able to achieve my dream of owning a ranch on the Central Coast. Therese is one of the hardest working, focused and honest people I have had the pleasure of working with. She is dedicated to her commitments and provides thorough and prompt attention to the people who rely on her expertise. Her knowledge of the San Luis Obispo community and established connections across multiple industries make Therese an amazing asset to have on your team. She is definitely my Realtor® for life!
TJ Gillan | Atascadero
I have known Therese Cron for several years. What has impressed me and what I admire the most about Therese is her work ethic. When Therese tells you she is going to do something, she does it and goes beyond with her follow up after delivering on her promise. In addition, Therese's knowledge of the real estate environment in San Luis is unsurpassed. I have seen Therese tackle a challenge such as leasing a retail store in downtown San Luis. She seeks out prospects and set tours with those prospects who otherwise would not have been contacted by others. Therese is a pleasure to work with and I cannot recommend her more highly for any of your real estate needs.
Marcia Connolly, Sr. VP President, Retail Leasing | Washington, DC
Therese was immensely helpful in obtaining office space for my companies. She was always willing to engage in dialogue to find a solution that worked for my business needs. She is responsive, supportive and creative and has deep industry knowledge that benefits all who work with her.
Jamie Barlett, President PolyPay | San Luis Obispo